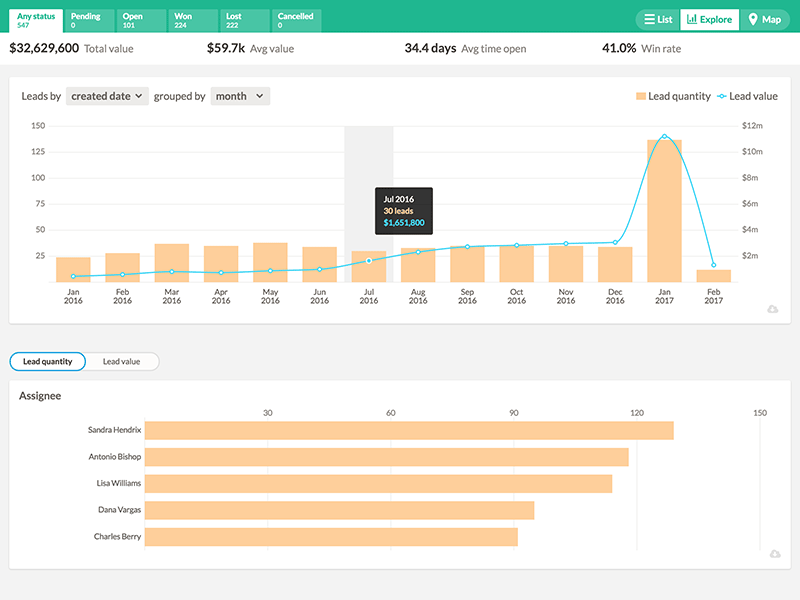 Logo, print, website & app design for a CRM software business, based in Michigan, US.
Brief & deliverables
Guide and refine a brand identity, website, web and mobile apps for a CRM software business, based in Michigan, US. www.nutshell.com
Logo design
Brand guidelines
Art direction
Print marketing
Digital marketing
UI design
UX design
Web design & development
Product design & development
Code Optional podcast
A guest appearance on the Code Optional podcast – the trials and tribulations of building software. Discussing remote work, jumping from graphic to product design, and how one grows and becomes inspired.
Nutshell's team is greater than the sum of its parts, but there's at least one member that especially stands out amongst the crowd: Karsten.

Now, it's not just the British charm, er, "accent", or his impressive Photoshop, but his authenticity and hardwork. Coming from a client-work background, Karsten is a man of deadlines and diligence. We equally rely on his eye for design, eagerness to iterate, and polite candor to help define product and marketing.

Karsten is unique, and it's hard to imagine the team without him.
Andrew Sardone Engineering lead at Nutshell
Karsten has proved himself to be a very capable designer. His designs for the Nutshell logo, website, web application, iPhone app and iPad app are very exciting and are just what we were hoping for when we hired him.

I would not hesitate to recommend Karsten to anyone looking for a first-class designer.
Chris Dzombak Software Engineer at The New York Times
Karsten is absolutely brilliant to work with. He leads the way for design and user experience at Nutshell.
Maddy Andrade Sales and Marketing Intern at Nutshell
Karsten's creativity and talent shine through in everything he does. Not only will he guide you through the design process, but he will make sure that the finished product is exactly what you want. His aesthetic is impeccable!
Sara Kissner Office Manager at Nutshell
An absolute pleasure to work with. Opinionated, yet a good listener – valuing customer feedback and encouraging the teams input into the design process.
Eduardo Muller Account Executive at Nutshell
I worked with Karsten closely at Nutshell, and his attention to detail and code organization is unparalleled.

As the design lead, Karsten went out of his way to ensure that my team's ideas about how to improve the product were heard.

A team player – going above and beyond to establish authentic relationships with those around him. Simply, Karsten is brilliant. His designs are beautiful and simplistic in nature complimenting complex products.
Charles Sustaita Customer Support Manager at Nutshell